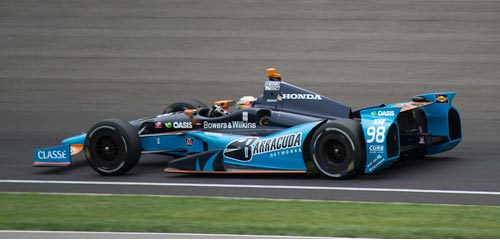 Alex Tagliani leading the 2013 Indy 500
10 Top 10 Indy Car finishes 2012-2013
Herta/Curb-Agajanian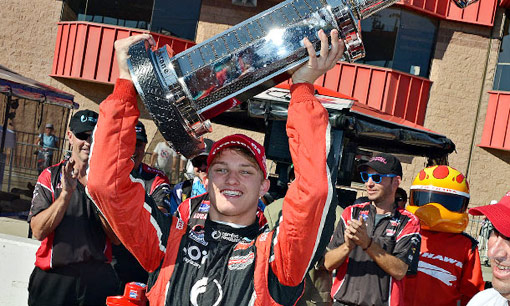 Sage Karam - 2013 Indy Lights Champion Winner at Milwaukee, Iowa and Houston 2013
Pole Winner at 2013 Indianapolis Freedom 100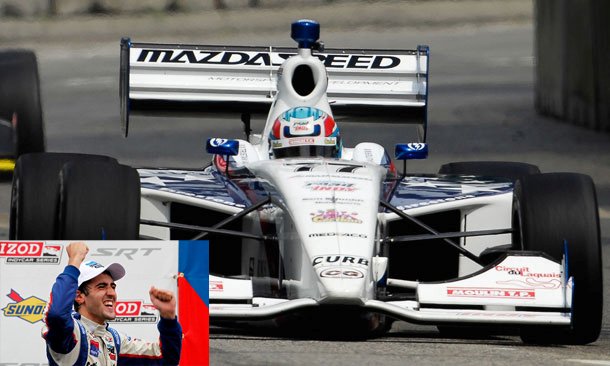 After a podium finish at Indianapolis, Tristan Vautier wins four races in 2012 for
Schmidt/Curb-Agajanian and wins the Indy Lights championship.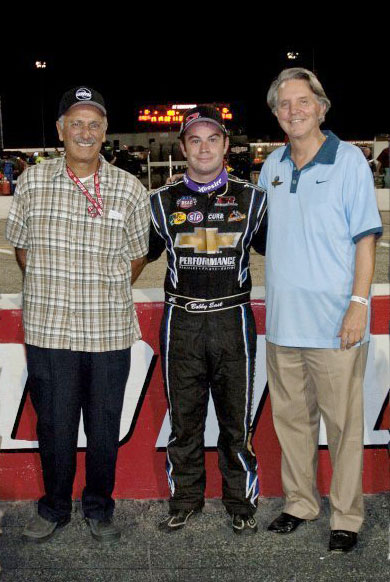 Cary Agajanian, Bobby East and Mike Curb in Indiana where East won the 2012 and 2013 USAC Silver Crown Championship. He also won the season finale at Terre Haute, IN in the Tony Stewart/Curb-Agajanian Silver Crown car.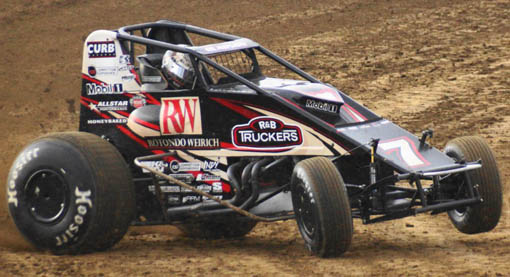 <!IMG SRC="images/clauson_usac2012.jpg" ALT="Clauson (2012)" WIDTH="510" HEIGHT="336" HSPACE="0" VSPACE="6" BORDER="0" ALIGN="bottom">
Bryan Clauson drove the CTR/BCI/Curb-Agajanian sprint car to 7 wins and the 2012 Overall Car Owner and Driver USAC Sprint Car Championship. Clauson also won two races in route to winning the 2012 USAC Eastern Storm Championship in the RW/Curb-Agajanian Sprint car. Clauson won the overall USAC National Championship for the third consecutive year, and Curb-Agajanian became the first owner/co-entrant to win all three USAC National Divisions (Silver Crown, Midget Car and Sprint Car) the same year.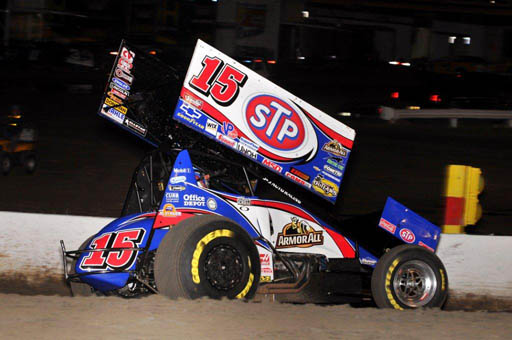 Curb Records partnered with Tony Stewart Racing as the Primary Associate Sponsor for Donny Schatz's World of Outlaws car that won the 2012 World of Outlaws Championship. Schatz also won the prestigious Knoxville Nationals in 2012 and 2013 as well as 30 other victories.
Joey Saldana scores 80th Curb/Kahne World of Outlaws victory at Charlotte and wins Southern California Nationals in 2012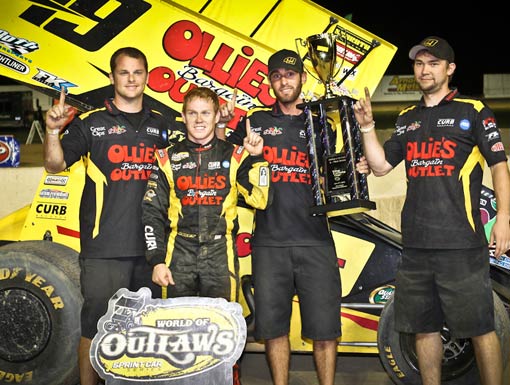 Brad Sweet and team celebrating their first
World Of Outlaws victory in Iowa in 2012 in the Kasey Kahne/Curb Records Sprint car. In 2013, the team won the historic Kings Royal at Eldora.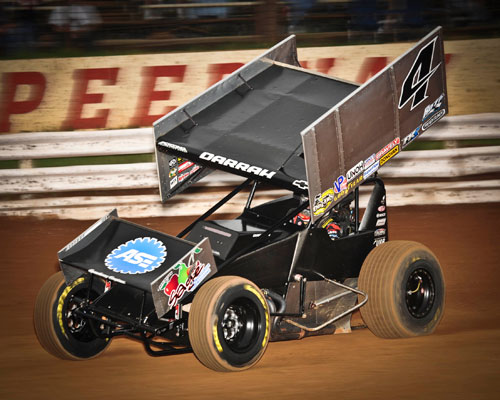 Cody Darrah wins the Summer Nationals in Pennsylvania in 2012
in his Kasey Kahne/Curb Records World of Outlaws car. In 2013 Darrah scored 2 additional World of Outlaws victories.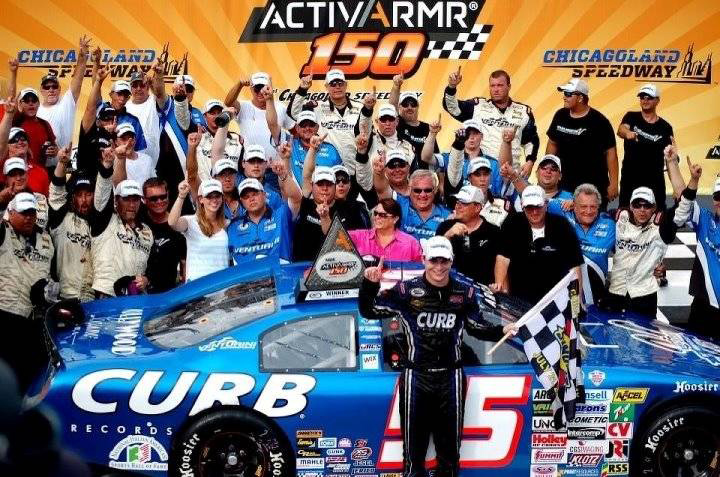 Kevin Swindell wins the ARCA Chicago July 2012 race driving for Curb-Agajanian/Venturini Motorsports. Swindell accomplished a rare perfect race winning the pole and leading all 150 laps.
<!A HREF="Curb-051611-003.jpg">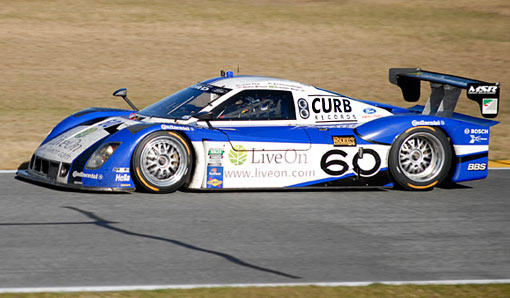 Shank/Curb-Agajanian wins the 50th Anniversary of the Rolex 24 Hours of Daytona - 2012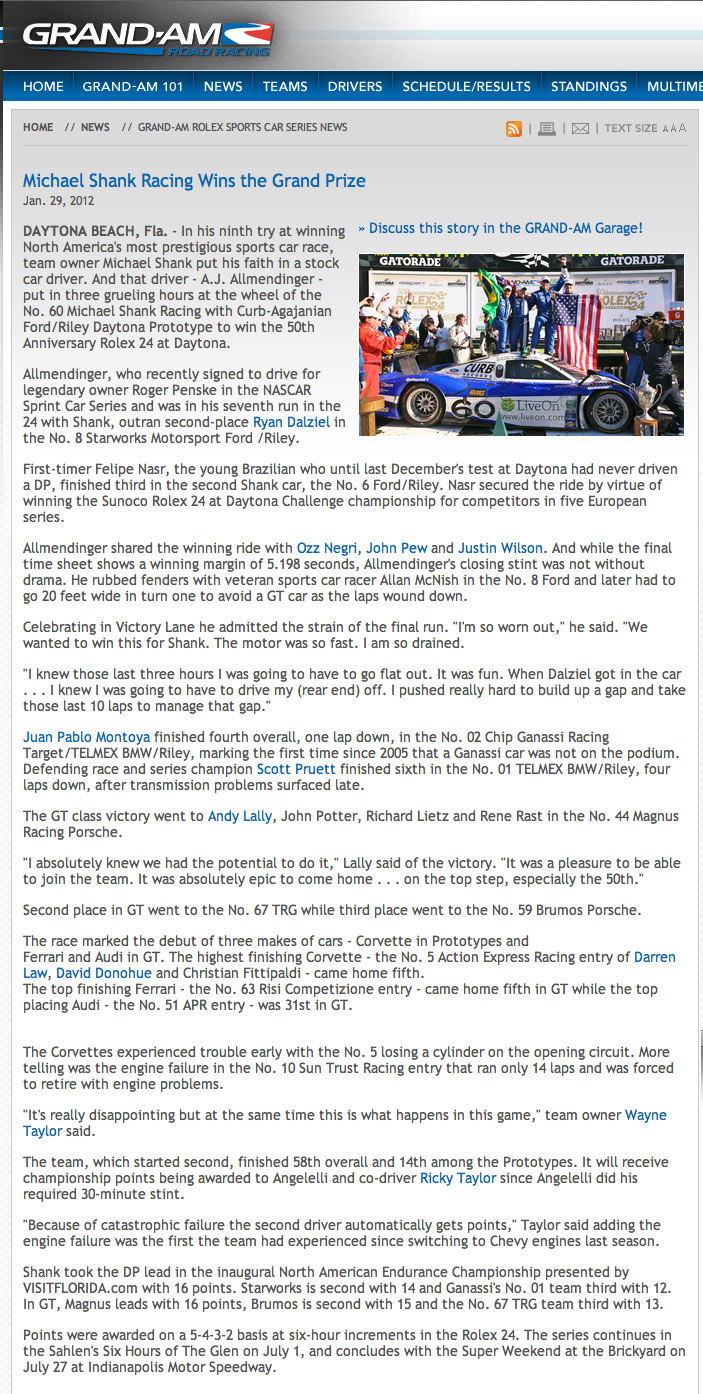 <!A HREF="Curb-051611-003.jpg">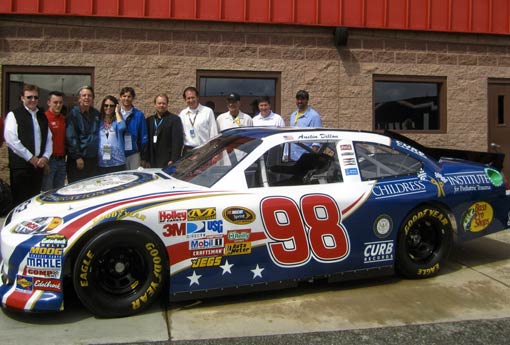 Austin Dillon makes his first Sprint Cup start and Curb's 100th start in the
Childress/Curb #98 car in 2011 in honor of the Ronald Reagan Centennial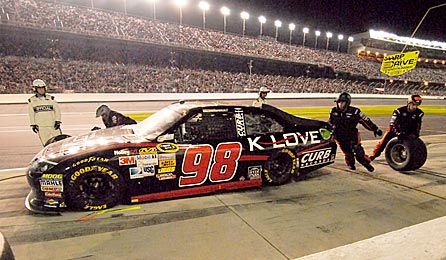 Michael McDowell driving the Phil Parsons/Curb-Agajanian 98
K-Love/Curb Records car in the 2012 Daytona 500
(Top 6 in Daytona 125 in 2012)
In 2013, McDowell finished Top 10 in the Daytona 500.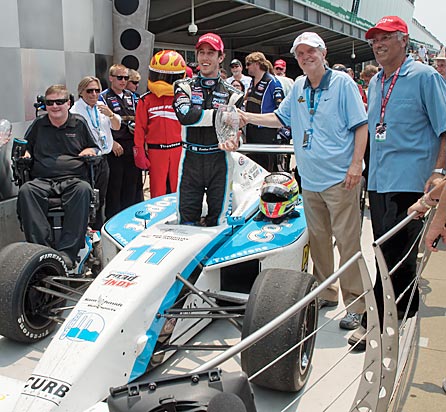 Mike Curb congratulates Esteban Guerrieri on his victory in the
2012 Indianapolis Freedom 100 with Sam Schmidt
and Cary Agajanian in Victory Lane with the winning
Schmidt/Curb-Agajanian car. In 2013, Jones won the 60th anniversary of the Hoosier 100.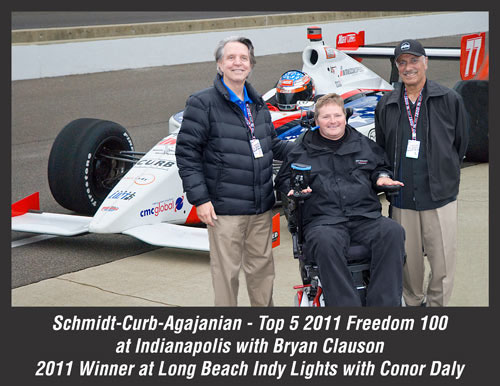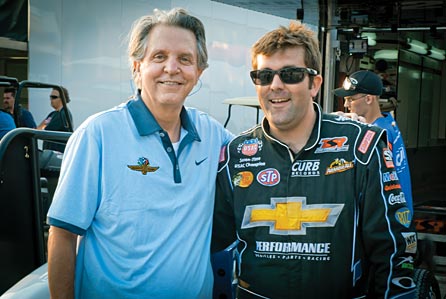 Mike Curb with Levi Jones in Indianapolis in 2012 celebrating their Indiana Speedweek Sprint Car Championship. Jones also won the 2010 and 2011 Silver Crown Championship for Tony Stewart/Curb-Agajanian.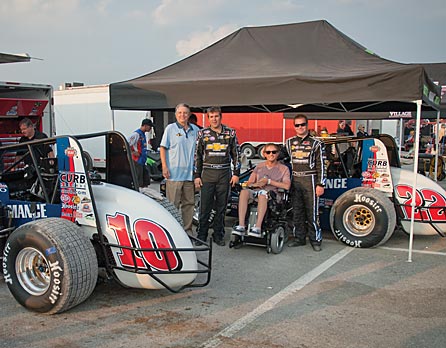 Mike Curb with Tony Stewart/Curb-Agajanian USAC Silver Crown drivers Levi Jones and Bobby East at the 2013 Hoosier 100 which was won by Levi Jones. Also pictured is former driver Shane Hmeil, who has been an inspiration to the team. Jones also won the Indiana Speedweeks Championship and East went on to win the overall USAC Silver Crown Championship for the second year in a row.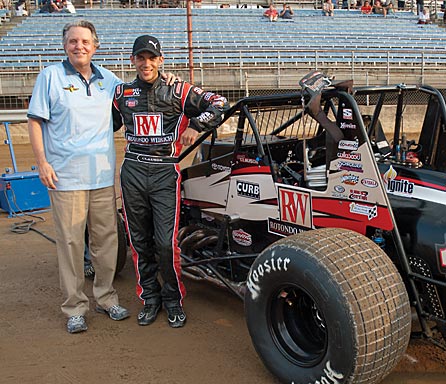 Mike Curb and Bryan Clauson in Indianapolis in 2012 celebrating Clauson's third consecutive USAC National Driver's championship with the RW/Curb-Agajanian Silver Crown car. This is the same car that started the 2012 Indianapolis season by winning the 2012 USAC Silver Crown Hall of Fame Classic in Indianapolis driven by Bobby Santos. The RW/Curb-Agajanian Silver Crown car won the 2012 USAC Owner/Entrant Championship.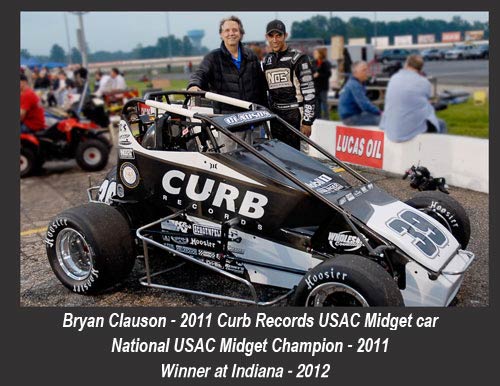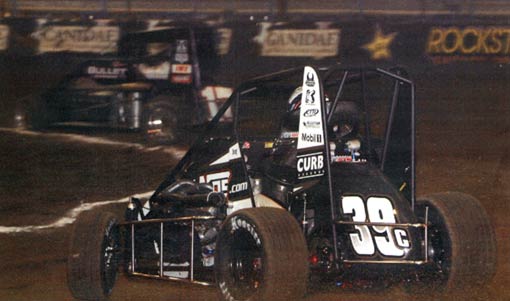 Bryan Clauson - 2011 Curb Records - USAC Sprint Car
Winner at Florida - Tucker/Curb-Agajanian
In 2012 Clauson has won 7 Sprint Car races and won the 2012 USAC Sprint Car Championship.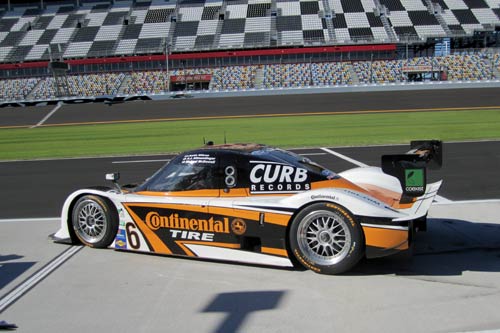 2011 Rolex 24 Hours of Daytona
A.J. Allmendinger, Justin Wilson, Michael McDowell
7th Place Overall

[ click for larger image ]
From NASCAR.com

[ click for larger image ]
From NASCAR.com
<!A HREF="johnny-mike-rodney_500thStart.jpg">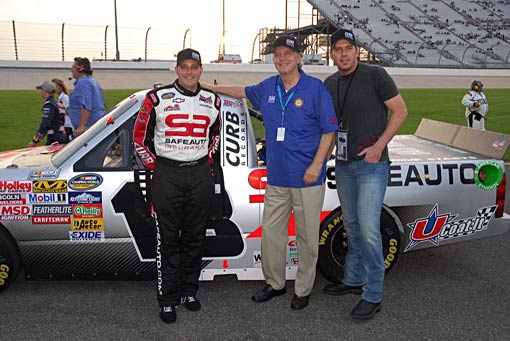 Johnny Sauter - Winner at Las Vegas, Kansas, Martinsville, and 2011 Season Finale at Homestead, FL
Johnny, Mike Curb and Rodney Atkins celebrate Curb's 500th
NASCAR start at Nashville - 2011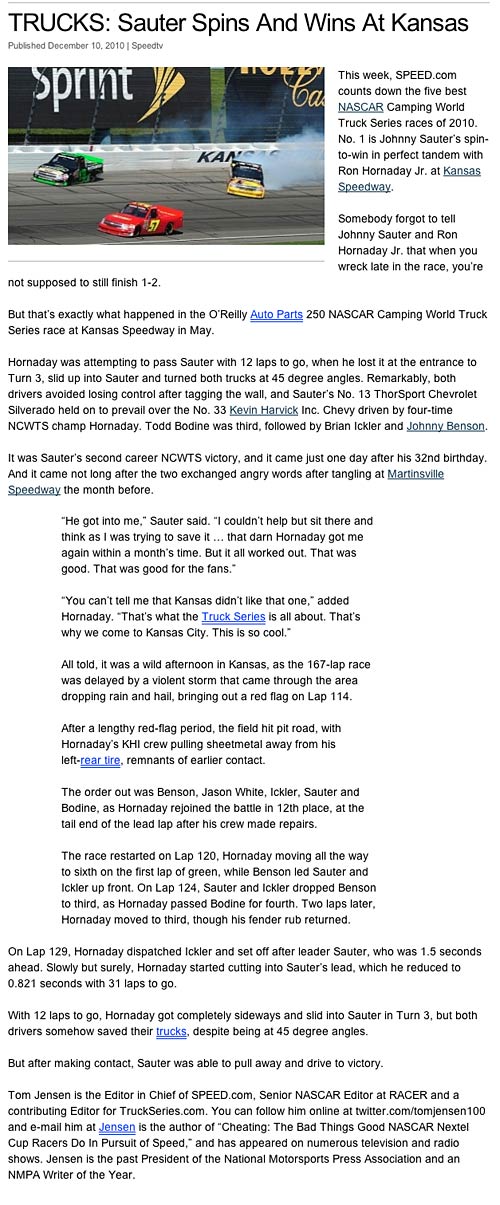 Curb Records congratulates Johnny Sauter on winning the season finale at Homestead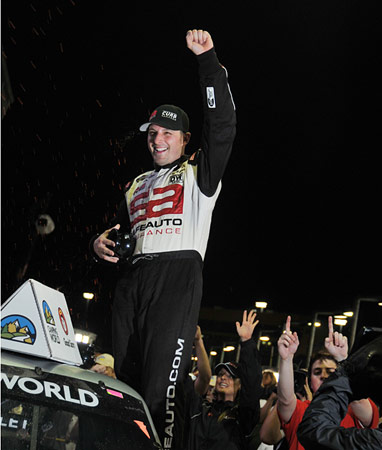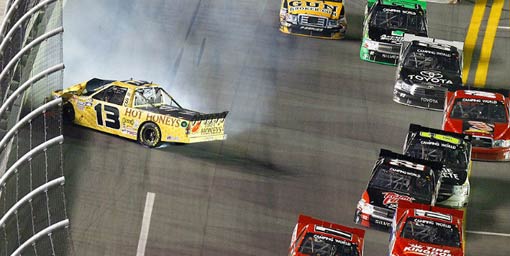 Johnny Sauter was a few hundred feet from victory when a tap from winner John King
sent the No. 13 into the wall at Daytona in 2012. (Autostock)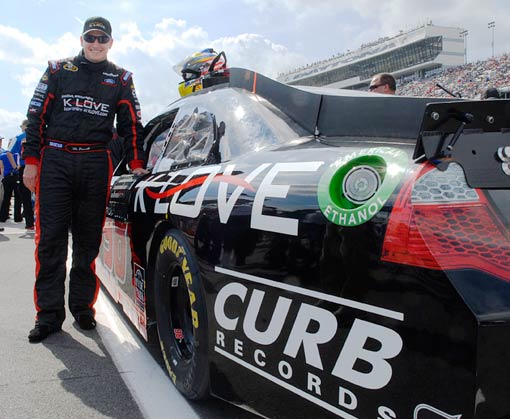 Michael McDowell finishes 6th in the 2012 Gatorade 125.
In 2013, McDowell finished Top 10 in the Daytona 500.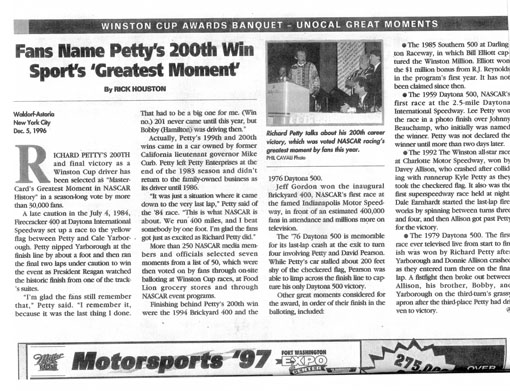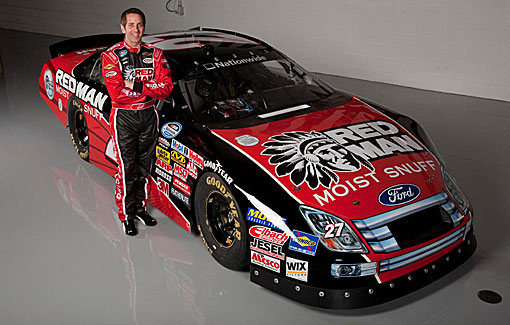 Greg Biffle - 2010 Baker-Curb Redman NASCAR Nationwide
Runner-Up at California
10 Top 10 Finishes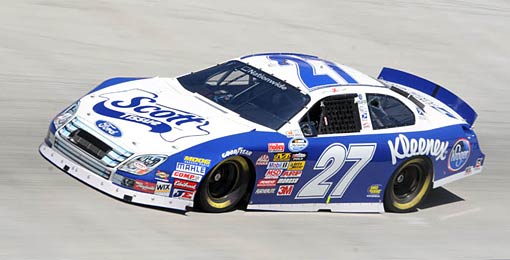 Jason Keller - 2009 Top 10 NASCAR Nationwide Series
Top 10 Daytona & Talladega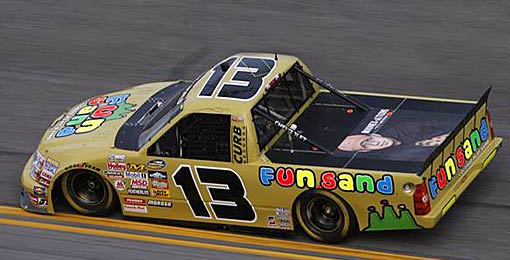 Johnny Sauter - 2009 Top 10 Camping World Truck Series
Winner at Las Vegas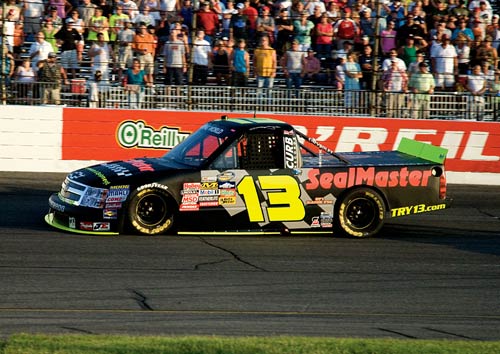 Johnny Sauter - 2010 Top 3 Camping World Truck Series Championship
Winner at Kansas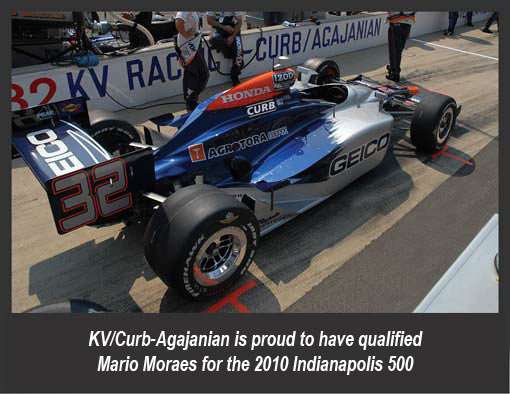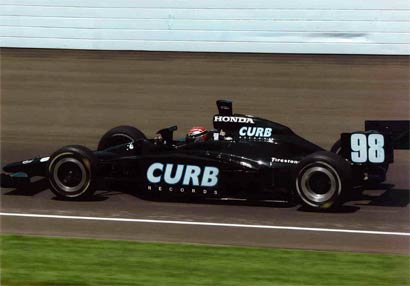 Alex Barron - Beck/Curb/Agajanian Indy Car
Entered in 2008 Indianapolis 500
2007 - Top 15 Indianapolis 500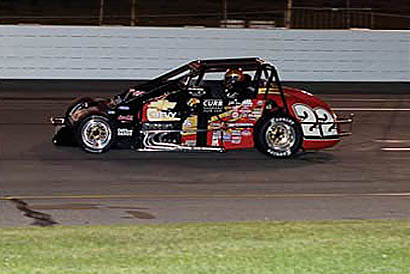 <!IMG SRC="images/mca_nov_22b.jpg" ALT="" WIDTH="400" HEIGHT="283" HSPACE="0" VSPACE="3" BORDER="0" ALIGN="bottom">
Bryan Clauson - 2010/2011/2012 Overall
USAC Champion - Winner at Eldora
Tony Stewart/Curb-Agajanian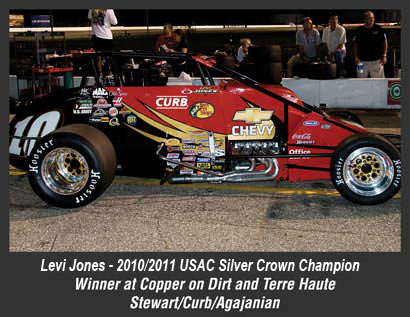 <!IMG SRC="images/mca_nov_10b.jpg" ALT="" WIDTH="400" HEIGHT="262" HSPACE="0" VSPACE="3" BORDER="0" ALIGN="bottom">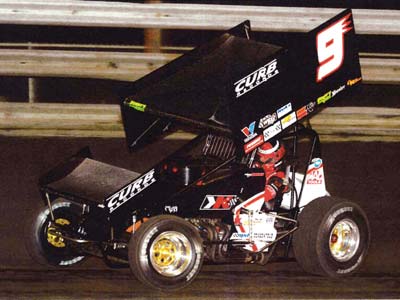 Joey Saldana - 2007 Runner-up World of Outlaws Championship
12 Victories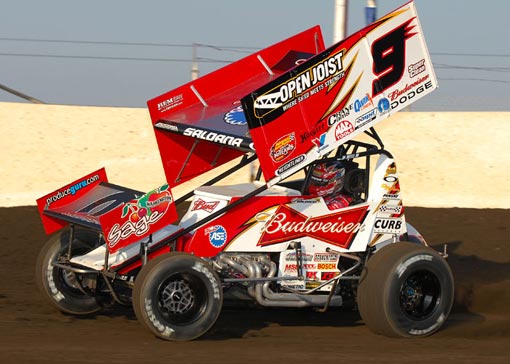 Joey Saldana - 2006—2012 Kahne/Curb/Agajanian World of Outlaws
Over 70 Victories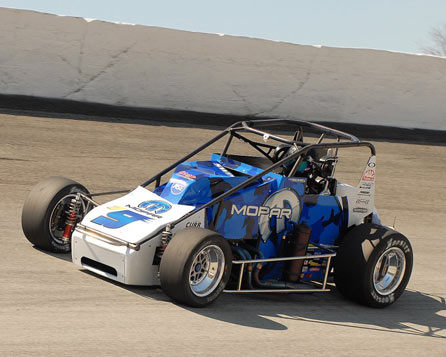 Brad Sweet: Runner-Up - 2009 USAC Midget Championship; Top 3 - 2008 USAC Midget Championship; Top 10 - 2007 USAC Midget Championship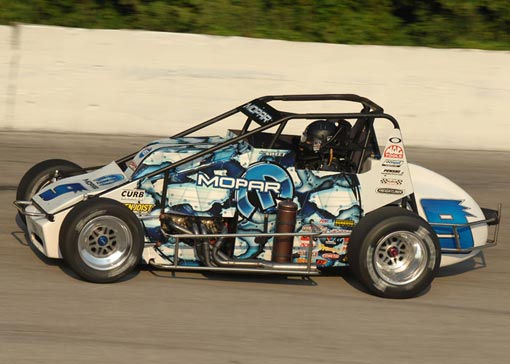 Brad Sweet - 2008 Winner of the Belleville Nationals
15 Victories 2008-2010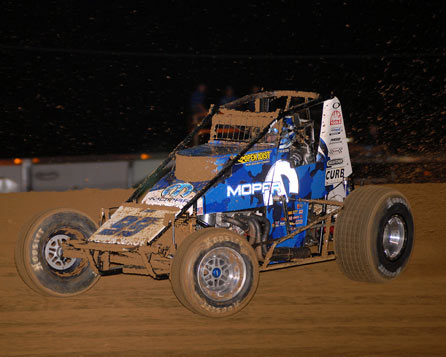 Brady Bacon - 2008 USAC Sprint Car - Kahne/Curb/Agajanian
Top 5 2007 USAC Sprint Car Championship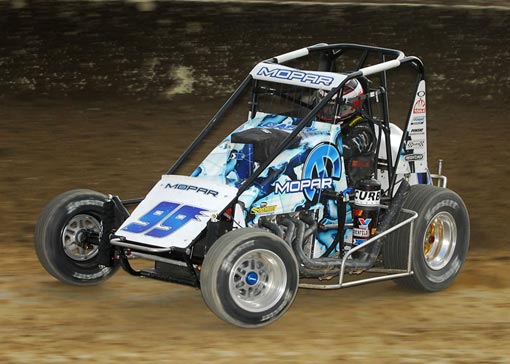 Brady Bacon - 2008 Winner of Fireman's Nationals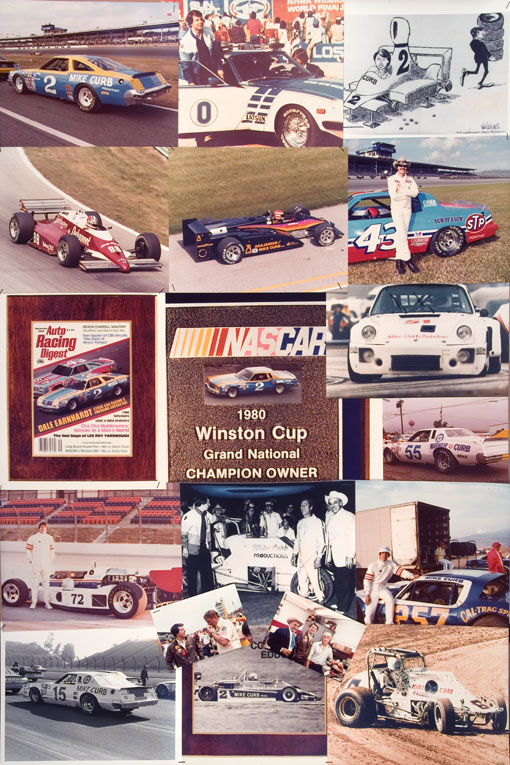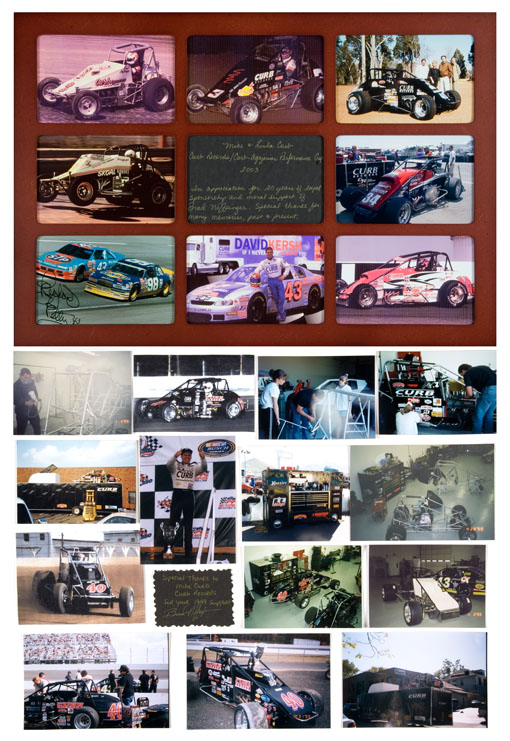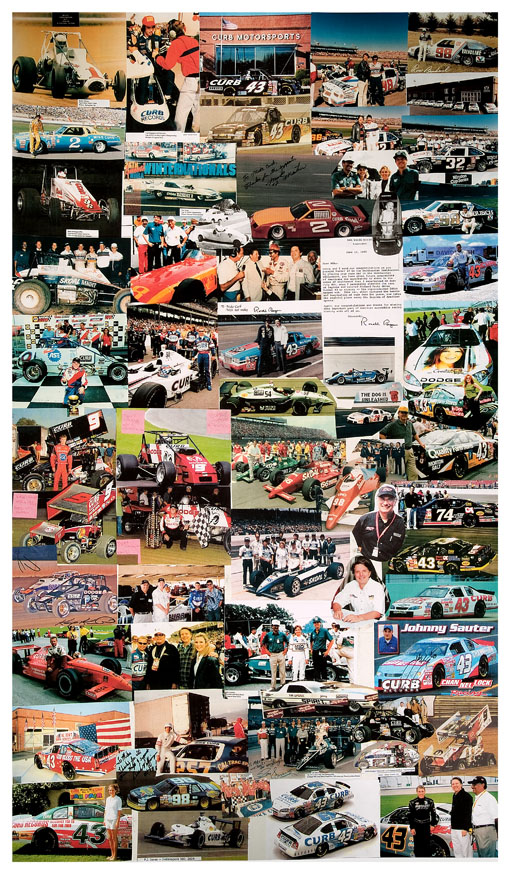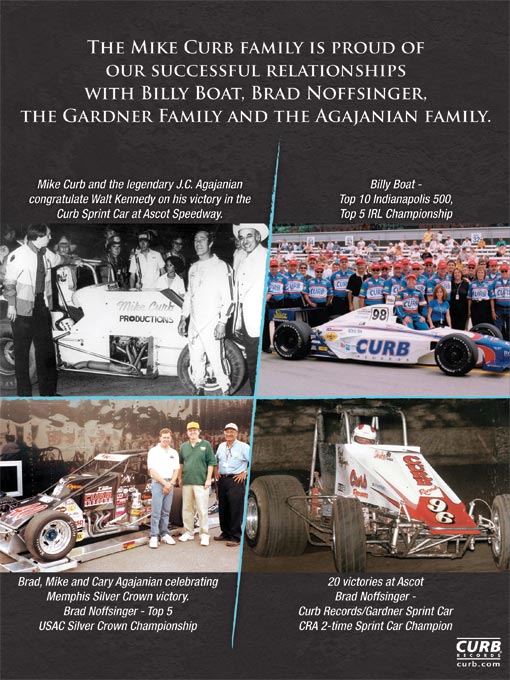 The Mike Curb Family is proud of our successful relationships with
Billy Boat, Brad Noffsinger, The Garnder Family and
the Agajanian Family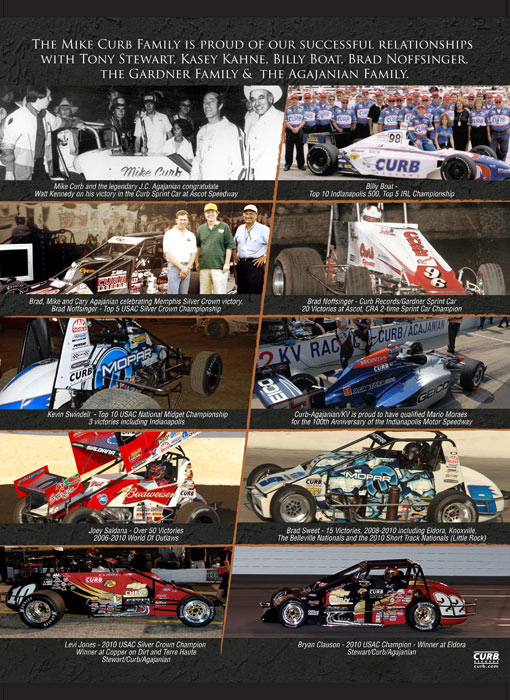 [click for larger image]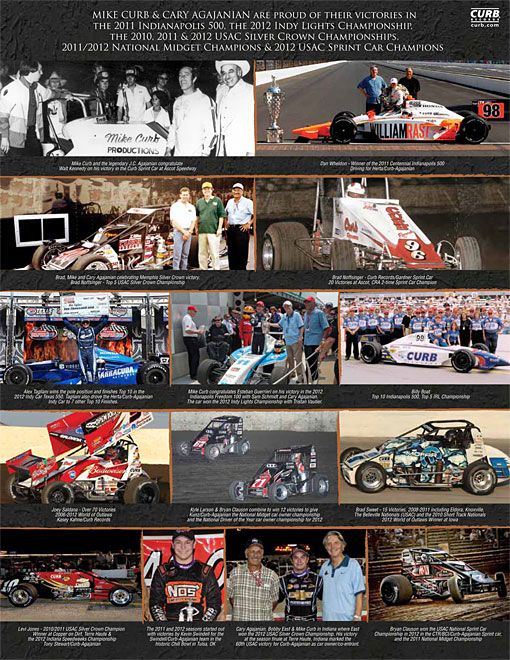 [click for larger image]
-- Curb Motorsports is proud of it's relationship with Kasey Kahne --