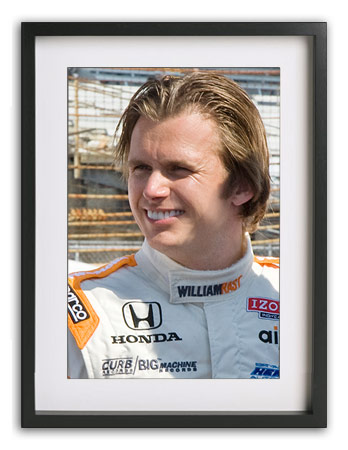 DAN WHELDON IN MEMORIAM 1978-2011
We had the opportunity to share the greatest moment that any car owner or race driver could ever experience when Dan Wheldon won the Centennial Indianapolis 500 earlier this year. A couple of months ago while we were having dinner in Nashville, I told Dan about this book commemorating our 50th year in business, and he said he would like to write a note that could be included. When I received that handwritten note on Sunday, October 9th, I asked the publisher to make this one final inclusion before printing.

A few days later the book was at the printer, ready to roll. Then, in one tragic moment on October 16, 2011, all that changed. The publisher was asked to contact the printer and hold the press.

My wife, Linda, and I were participating with Dan in the Las Vegas race, and we were proud to present Dan with his Indianapolis 500 ring. We were stunned at how excited he was to receive the ring and also, how thrilled he was to talk about his wife, Susie, and his sons, Sebastian and Oliver. Dan was not only a great race driver but he was also a great husband, father, and most of all, a very special person. It's hard to believe that we were standing next to Dan seconds before he got into his car and that twelve laps later we would never see him again. We are proud to pay tribute to Dan's great racing career and also his magnificent life.

—Mike Curb

2014
Jack Hawksworth
(98)
20th
2014
Jack Hawksworth
(98)
7th
2013
Alex Tagliani
(98)
24th
2012
Alex Tagliani
(98)
12th
2012
Bryan Clauson
(39)
30th
2011
Dan Wheldon
(98)
1st
2010
Mario Moraes
(32)
31st
2010
Paul Tracy
(98)
2009
Stanton Barrett
(98)
2008
Arie Luyendyk, Jr.
(98)
2007
Alex Barron
(98)
15th
2006
P.J. Jones
(98)
19th
2004
P.J. Jones
(98)
28th
2003
Billy Boat
(98)
32nd
2003
Ritchie Hearn
(99)
28th
2002
Billy Boat
(98)
18th
2001
Billy Boat
(98)
9th
1999
Hideshi Matsuda
(54)
10th
1988
Ed Pimm
(98)
1988
John Andretti
(98)
21st
1987
Ed Pimm
(98)
21st
1987
Tom Sneva
(33)
14th
1986
Jan Lammers
(98)
1986
Ed Pimm
(66)
17th
1986
Tom Sneva
(33)
33rd
1985
Tony Bettenhausen
(97)
29th
1985
Ed Pimm
(98)
9th
1985
Tom Sneva
(2)
20th
1984
Kevin Cogan
(98)
20th
1983
Mike Chandler
(29)
16th
| | | | |
| --- | --- | --- | --- |
| | | | |
| 1982/83 | Bobby Olivero | Illinois State Fairgrounds | 1st |
| 1982/83 | Bobby Olivero | DuQuoin State Fairgrounds | 3rd |
| 1982/83 | Bobby Olivero | Indiana State Fairgrounds | 2nd |
| 1985 | Ed Pimm | Indianapolis 500 | 9th |
1984
PHOENIX
8
KEVIN COGAN
1984
MILWAUKEE
9
KEVIN COGAN
1984
MICHIGAN 500
8
KEVIN COGAN
1984
ELKHART
10
KEVIN COGAN
1984
PHOENIX
10
MIKE CHANDLER

Dan Wheldon — Winner of the 2011 Centennial Indianapolis 500

Herta/Curb-Agajanian

At the announcement of the Indianapolis 500 relationship with Dan

Wheldon and Big Machine, Herta/Curb-Agajanian is proud to have

won the 100th Anniversary of the Indianapolis 500 in association with

the Ronald Reagan Centennial

Jack Hawksworth led many laps and finished 7th

in the 2014 Indianapolis Grand Prix

Luiz Razia and Jack Harvey finish 1 - 2 in the 2014 Indianapolis Grand Prix. Harvey went on to win four other races in 2014 and finished the season as runner-up in the 2014 IndyCar Lights national point standings

Alex Tagliani leading the 2013 Indy 500

10 Top 10 Indy Car finishes 2012-2013

Herta/Curb-Agajanian

Mike Curb with the Angie's List/Curb Records car #39 which was driven by

Bryan Clauson in the 2012 Indianapolis 500

Stanton Barrett - Curb/Agajanian/Team 3G

2009 Indy Racing League Series - 2009 Indianapolis 500

Alex Barron finished top 15 in the 2007 Indianapolis 500
driving for Curb Agaganian Beck Motorsports.



Michael Chandler -- Indianapolis 500, 1983



Kevin Cogan -- Gurney Curb Eagle, Indianapolis 1984



1985 Ed Pimm -- Top 10 Indy 500 car
Top 10 USAC Gold Crown Championship





1985
INDY 500
9
ED PIMM
1985
MICHIGAN 500
5
ED PIMM
1985
MID-OHIO
9
ED PIMM
1985
MONTREAL
8
ED PIMM
1985
MICHIGAN 200
3
ED PIMM
1985
PHOENIX
9
ED PIMM
1985
LONG BEACH GRAND PRIX
8
TOM SNEVA
1985
MILWAUKEE
2
TOM SNEVA
1985
MEADOWLANDS
6
TOM SNEVA
1985
MICHIGAN
3
TOM SNEVA
1985
POCONO 500
8
TOM SNEVA
1985
MONTREAL
7
TOM SNEVA
1985
MICHIGAN 200
5
TOM SNEVA
1986
MILWAUKEE
10
ED PIMM
1986
PORTLAND
6
ED PIMM
1986
MICHIGAN 200
7
ED PIMM
1986
PHOENIX
7
ED PIMM
1986
MIAMI
10
ED PIMM
1986
MICHIGAN 200
5
TOM SNEVA
1986
PHOENIX
2
TOM SNEVA
1986
PORTLAND
4
TOM SNEVA
1986
CLEVELAND
5
TOM SNEVA
1986
TORONTO
9
TOM SNEVA
1986
MILWAUKEE
2
TOM SNEVA
1986
PHOENIX
9
JAN LAMMERS

1986 Tom Sneva with Curb-owned Indy car
-- Top 10 Indy car championship
1986/1987 10 Top 10 Finishes including podium finishes at Long Beach Grand Prix, Phoenix and Milwaukee

1987
ELKHART LAKE
6
JOHN ANDRETTI
1987
MID-OHIO
10
JOHN ANDRETTI
1987
MONTREAL
7
JOHN ANDRETTI
1987
MIAMI
9
JOHN ANDRETTI
1987
LONG BEACH GRAND PRIX
3
TOM SNEVA
1987
MEADOWLANDS
7
TOM SNEVA
1987
CLEVELAND
8
TOM SNEVA
1987
TORONTO
6
TOM SNEVA
1988
CLEVELAND
8
JOHN ANDRETTI
2001
GATEWAY
6
BILLY BOAT
2001
KENTUCKY
6
BILLY BOAT
2001
NASHVILLE
2
BILLY BOAT
2001
KANSAS
9
BILLY BOAT
2001
PIKES PEAK
4
BILLY BOAT
2001
TEXAS
5
BILLY BOAT
2001
INDY 500
9
BILLY BOAT
2001
PHOENIX
5
BILLY BOAT

2001 Billy Boat with Curb/Agajanian car -- Top 10 Indy 500
-- Top 5 Indy Racing League championship

2002
KANSAS
9
BILLY BOAT
2002
TEXAS
7
BILLY BOAT
2002
NAZARETH
8
BILLY BOAT
2002
PHOENIX
8
BILLY BOAT
2003
INDIANAPOLIS
28
RITCHIE HEARN
2003
INDIANAPOLIS
32
BILLY BOAT
2004
INDIANAPOLIS
28
P.J. JONES
2006
INDIANAPOLIS
19
P.J. JONES
2007
INDIANAPOLIS
15
ALEX BARRON
2008
INDIANAPOLIS
ARIE LUYENDYK, JR.
2009
INDIANAPOLIS
STANTON BARRETT
2010
INDIANAPOLIS
PAUL TRACY
2010
INDIANAPOLIS
31
MARIO MORAES
2011
INDIANAPOLIS
1st
DAN WHELDON
2012
INDIANAPOLIS
12
ALEX TAGLIANI
2012
INDIANAPOLIS
30
BRYAN CLAUSON
2012
DETROIT
10
ALEX TAGLIANI
2012
TEXAS
9
ALEX TAGLIANI
2012
MILWAUKEE
7
ALEX TAGLIANI
2012
TORONTO
10
ALEX TAGLIANI
2012
EDMONTON
5
ALEX TAGLIANI
2012
MID-OHIO
10
ALEX TAGLIANI
2012
SONOMA
9
ALEX TAGLIANI
2012
BALTIMORE
8
ALEX TAGLIANI
2013
ST. PETERSBURG, FL
10
ALEX TAGLIANI
2013
TORONTO
10
ALEX TAGLIANI
2013
HOUSTON, TX
10
LUCA FILIPPI
2013
CALIFORNIA
11
J.R. HILDEBRAND
2014
INDIANAPOLIS 500
20
JACK HAWKSWORTH
2014
INDIANAPOLIS GRAND PRIX
7
JACK HAWKSWORTH
2014
GRAND PRIX OF HOUSTON
6
JACK HAWKSWORTH
2014
GRAND PRIX OF HOUSTON
3
JACK HAWKSWORTH
2014
TORONTO, ONTARIO
6
JACK HAWKSWORTH
2014
WISCONSIN
10
JACK HAWKSWORTH

P.J. Jones -- Indianapolis 500, 2004



INDY LIGHTS
YEAR
TRACK
DRIVER
FINISH
04/17/2011
LONG BEACH
CONOR DALY
1
05/27/2011
INDIANAPOLIS
BRYAN CLAUSON
5
06/19/2011
MILWAUKEE
BRYAN CLAUSON
4
06/25/2011
IOWA
BRYAN CLAUSON
3
07/23/2011
EDMONDTON
DANIEL HERRINGTON
9
07/24/2011
EDMONDTON (2)
DANIEL HERRINGTON
7
08/14/2011
NEW HAMPSHIRE
BRYAN CLAUSON
7
10/02/2011
KENTUCKY
BRYAN CLAUSON
5
03/24/2012
ST PETERSBURG 100
TROY CASTANEDA
9
03/24/2012
ST PETERSBURG 100
TRISTAN VAUTIER
1
03/24/2012
ST PETERSBURG 100
ESTEBAN GUERRIERI
2
03/24/2012
ST PETERSBURG 100
VICTOR CARBONE
5
04/01/2012
GRAND PRIX OF ALABAMA
TROY CASTANEDA
15
04/01/2012
GRAND PRIX OF ALABAMA
TRISTAN VAUTIER
2
04/01/2012
GRAND PRIX OF ALABAMA
ESTEBAN GUERRIERI
3
04/01/2012
GRAND PRIX OF ALABAMA
VICTOR CARBONE
5
04/15/2012
GRAND PRIX OF LONG BEACH
ESTEBAN GUERRIERI
1
04/15/2012
GRAND PRIX OF ALABAMA
TRISTAN VAUTIER
3
04/15/2012
GRAND PRIX OF ALABAMA
VICTOR CARBONE
4
04/15/2012
GRAND PRIX OF ALABAMA
NICK ANDRIES
13
05/25/2012
FREEDOM 100 (Indianapolis)
ESTEBAN GUERRIERI
1
05/25/2012
FREEDOM 100 (Indianapolis)
TRISTAN VAUTIER
3
05/25/2012
FREEDOM 100 (Indianapolis)
VICTOR CARBONE
6
05/25/2012
FREEDOM 100 (Indianapolis)
ANDERS KROHN
19
06/02/2012
BELLE ISLAND GRAND PRIX (Detroit)
VICTOR CARBONE
4
06/02/2012
BELLE ISLAND GRAND PRIX (Detroit)
TRISTAN VAUTIER
5
06/02/2012
BELLE ISLAND GRAND PRIX (Detroit)
ESTEBAN GUERRIERI
7
06/15/2012
MILWAUKEE 100
TRISTAN VAUTIER
1
06/23/2012
SUKUP 100
ESTEBAN GUERRIERI
1
06/23/2012
SUKUP 100
VICTOR CARBONE
3
06/23/2012
SUKUP 100
TRISTAN VAUTIER
4
07/07/2012
TORONTO 100
VICTOR CARBONE
3
07/07/2012
TORONTO 100
ESTEBAN GUERRIERI
6
07/21/2012
EDMONTON 100
ESTEBAN GUERRIERI
3
07/21/2012
EDMONTON 100
TRISTAN VAUTIER
6
07/21/2012
EDMONTON 100
VICTOR CARBONE
8
08/05/2012
STREETS OF TROIS RIVIERES
TRISTAN VAUTIER
1
08/05/2012
STREETS OF TROIS RIVIERES
ESTEBAN GUERRIERI
4
08/05/2012
STREETS OF TROIS RIVIERES
VICTOR CARBONE
8
09/02/2012
STREETS OF BALTIMORE
TRISTAN VAUTIER
1
09/02/2012
STREETS OF BALTIMORE
ESTEBAN GUERRIERI
3
09/15/2012
FONTANA, CA
ESTEBAN GUERRIERI
3
09/15/2012
FONTANA, CA
TRISTAN VAUTIER
4
09/15/2012
FONTANA, CA
VICTOR CARBONE
5
03/23/2013
ST. PETERSBURG, FL
JACK HAWKSWORTH
1
03/23/2013
ST. PETERSBURG, FL
SAGE KARAM
3
03/23/2013
ST. PETERSBURG, FL
GABBY CHAVES
8
04/07/2013
BIRMINGHAM, AL
JACK HAWKSWORTH
2
04/07/2013
BIRMINGHAM, AL
GABBY CHAVES
3
04/07/2013
BIRMINGHAM, AL
SAGE KARAM
4
04/21/2013
LONG BEACH, CA
GABBY CHAVES
2
04/21/2013
LONG BEACH, CA
SAGE KARAM
3
04/21/2013
LONG BEACH, CA
JACK HAWKSWORTH
10
05/24/2013
FREEDOM 100 (Indianapolis)
GABBY CHAVES
2
05/24/2013
FREEDOM 100 (Indianapolis)
SAGE KARAM
3
05/24/2013
FREEDOM 100 (Indianapolis)
JACK HAWKSWORTH
10
05/24/2013
FREEDOM 100 (Indianapolis)
CHASE AUSTIN
8
06/15/2013
MILWAUKEE, WI
SAGE KARAM
1
06/15/2013
MILWAUKEE, WI
GABBY CHAVES
4
06/15/2013
MILWAUKEE, WI
JACK HAWKSWORTH
8
06/22/2013
SUKUP 100, IA
SAGE KARAM
1
06/22/2013
SUKUP 100, IA
GABBY CHAVES
2
06/22/2013
SUKUP 100, IA
JACK HAWKSWORTH
3
07/06/2013
POCONO, PA
SAGE KARAM
2
07/06/2013
POCONO, PA
GABBY CHAVES
3
07/06/2013
POCONO, PA
JACK HAWKSWORTH
5
07/13/2013
TORONTO
JACK HAWKSWORTH
1
07/13/2013
TORONTO
GABBY CHAVES
3
07/13/2013
TORONTO
SAGE KARAM
6
08/04/2013
MID-OHIO
GABBY CHAVES
1
08/04/2013
MID-OHIO
JACK HAWKSWORTH
3
08/04/2013
MID-OHIO
SAGE KARAM
8
09/01/2013
BALTIMORE
JACK HAWKSWORTH
1
09/01/2013
BALTIMORE
SAGE KARAM
2
09/01/2013
BALTIMORE
GABBY CHAVES
3
10/05/2013
HOUSTON, TX
SAGE KARAM
1
10/05/2013
HOUSTON, TX
GABBY CHAVES
2
10/05/2013
HOUSTON, TX
JACK HAWKSWORTH
6
10/19/2013
FONTANA, CA
GABBY CHAVES
2
10/19/2013
FONTANA, CA
SAGE KARAM
3
10/19/2013
FONTANA, CA
KYLE O'GARA
8
10/19/2013
FONTANA, CA
JACK HAWKSWORTH
9
03/30/2014
ST. PETERSBURG, FL
JACK HARVEY
3
03/30/2014
ST. PETERSBURG, FL
LUIZ RAZIA
5
03/30/2014
ST. PETERSBURG, FL
JUAN PIEDRAHITA
6
03/30/2014
ST. PETERSBURG, FL
JUAN PABLO GARCIA
7
04/13/2014
LONG BEACH, CA
JACK HARVEY
4
04/13/2014
LONG BEACH, CA
LUIZ RAZIA
5
04/13/2014
LONG BEACH, CA
JUAN PIEDRAHITA
7
04/13/2014
LONG BEACH, CA
JUAN PABLO GARCIA
8
04/26/2014
BARBER MOTORSPORTS PARK, AL
LUIZ RAZIA
2
04/26/2014
BARBER MOTORSPORTS PARK, AL
JACK HARVEY
3
04/26/2014
BARBER MOTORSPORTS PARK, AL
JUAN PABLO GARCIA
7
04/26/2014
BARBER MOTORSPORTS PARK, AL
JUAN PIEDRAHITA
10
04/27/2014
BARBER MOTORSPORTS PARK, AL
LUIZ RAZIA
4
04/27/2014
BARBER MOTORSPORTS PARK, AL
JACK HARVEY
5
04/27/2014
BARBER MOTORSPORTS PARK, AL
JUAN PABLO GARCIA
6
04/27/2014
BARBER MOTORSPORTS PARK, AL
JUAN PIEDRAHITA
7
05/09/2014
INDIANAPOLIS GRAND PRIX
LUIZ RAZIA
2
05/09/2014
INDIANAPOLIS GRAND PRIX
JACK HARVEY
3
05/09/2014
INDIANAPOLIS GRAND PRIX
JUAN PABLO GARCIA
6
05/09/2014
INDIANAPOLIS GRAND PRIX
JUAN PIEDRAHITA
8
05/10/2014
INDIANAPOLIS GRAND PRIX
LUIZ RAZIA
1
05/10/2014
INDIANAPOLIS GRAND PRIX
JACK HARVEY
2
05/10/2014
INDIANAPOLIS GRAND PRIX
JUAN PABLO GARCIA
6
05/23/2014
INDIANAPOLIS FREEDOM 100
LUIZ RAZIA
4
05/23/2014
INDIANAPOLIS FREEDOM 100
JACK HARVEY
5
05/23/2014
INDIANAPOLIS FREEDOM 100
JUAN PABLO GARCIA
6
05/23/2014
INDIANAPOLIS FREEDOM 100
JUAN PIEDRAHITA
8
07/05/2014
POCONO, PA
JACK HARVEY
3
07/05/2014
POCONO, PA
JUAN PABLO GARCIA
4
07/05/2014
POCONO, PA
JUAN PIEDRAHITA
7
07/05/2014
POCONO, PA
LUIZ RAZIA
8
07/20/2014
GRAND PRIX OF TORONTO
JACK HARVEY
3
07/20/2014
GRAND PRIX OF TORONTO
JUAN PIEDRAHITA
7
07/20/2014
GRAND PRIX OF TORONTO
JUAN PABLO GARCIA
8
08/02/2014
GRAND PRIX OF MID-OHIO
JACK HARVEY
1
08/02/2014
GRAND PRIX OF MID-OHIO
JUAN PABLO GARCIA
10
08/02/2014
GRAND PRIX OF MID-OHIO
JUAN PIEDRAHITA
9
08/02/2014
GRAND PRIX OF MID-OHIO
LUIZ RAZIA
3
08/03/2014
GRAND PRIX OF MID-OHIO
JACK HARVEY
1
08/03/2014
GRAND PRIX OF MID-OHIO
JUAN PABLO GARCIA
6
08/03/2014
GRAND PRIX OF MID-OHIO
JUAN PIEDRAHITA
5
08/17/2014
MILWAUKEE MILE 100
JACK HARVEY
5
08/17/2014
MILWAUKEE MILE 100
JUAN PIEDRAHITA
6
08/17/2014
MILWAUKEE MILE 100
JUAN PABLO GARCIA
7
08/17/2014
MILWAUKEE MILE 100
LUIZ RAZIA
8
08/23/2014
SONOMA
JACK HARVEY
1
08/23/2014
SONOMA
LUIZ RAZIA
3
08/23/2014
SONOMA
JUAN PABLO GARCIA
4
08/23/2014
SONOMA
JUAN PIEDRAHITA
5
08/24/2014
SONOMA
JACK HARVEY
1
08/24/2014
SONOMA
LUIZ RAZIA
4
08/24/2014
SONOMA
JUAN PABLO GARCIA
9
08/24/2014
SONOMA
JUAN PIEDRAHITA
7

Ted Prappas, Winner Laguna Seca Indy Lights





Mike Curb congratulates Esteban Guerrieri on his victory
in the 2012 Indianapolis Freedom 100 with Sam Schmidt
and Cary Agajanian in Victory Lane with the winning
Schmidt/Curb-Agajanian car




Josh Agajanian, Sam Schmidt, Mike Curb, Bill Anthony and Cary Agajanian
in 2012 receiving their Indianapolis 500 victory rings
and presenting a check from Curb Records
to the Sam Schmidt Paralysis Foundation





After a podium finish at Indianapolis, Tristan Vautier wins four races in 2012 for
Schmidt/Curb-Agajanian and wins the Indy Lights championship.





Sage Karam - 2013 Indy Lights Champion
Winner at Milwaukee, Iowa and Houston 2013
Pole Winner at 2013 Indianapolis Freedom 100


FORMULA 2000
YEAR
TRACK
DRIVER
FINISH
2012
LIME ROCK
BRANDON NEWEY
1
2012
WATKINS GLEN
BRANDON NEWEY
1
2012
SUMMIT POINT
BRANDON NEWEY
3
2012
SUMMIT POINT
BRANDON NEWEY
1
2012
MID-OHIO
BRANDON NEWEY
5
2012
MID-OHIO
BRANDON NEWEY
4
2012
NEW JERSEY
BRANDON NEWEY
3
2012
LIME ROCK
BRANDON NEWEY
2
2012
VIR
BRANDON NEWEY
3
2013
SEBRING, FL
BRANDON NEWEY
10
2013
ST. PETERSBURG, FL
BRANDON NEWEY
7
2013
TORONTO
BRANDON NEWEY
10
2013
HOUSTON, TX
BRANDON NEWEY
10
2013
HOUSTON, TX
BRANDON NEWEY
5
2014
GRAND PRIX OF INDIANAPOLIS
COLTON HERTA
5
2014
GRAND PRIX OF ST PETERSBURG
ADRIAN STARRANTINO
6
2014
BARBER MOTORSPORTS PARK
ADRIAN STARRANTINO
7
2014
GRAND PRIX OF INDIANAPOLIS
ADRIAN STARRANTINO
1
2014
GRAND PRIX OF TORONTO
COLTON HERTA
5
2014
GRAND PRIX OF TORONTO
ADRIAN STARRANTINO
8
2014
GRAND PRIX OF MID-OHIO
COLTON HERTA
10
2014
GRAND PRIX OF MID-OHIO
ADRIAN STARRANTINO
7
2014
GRAND PRIX OF SONOMA
COLTON HERTA
7
2014
GRAND PRIX OF SONOMA
COLTON HERTA
9
2014
GRAND PRIX OF SONOMA
ADRIAN STARRANTINO
10
2014
GRAND PRIX OF SONOMA
ADRIAN STARRANTINO
6


Brandon Newey winning 2012 Formula F1600 at Lime Rock,
Connecticut in the BHA/Curb Records #98 car


FORMULA F1600
YEAR
TRACK
DRIVER
FINISH
2013
VIRGINIA INTERNATIONAL RACEWAY
ADRIAN STARRANTINO
1
2013
VIRGINIA INTERNATIONAL RACEWAY
ADRIAN STARRANTINO
1
2013
ATLANTA
ADRIAN STARRANTINO
2
2013
LIME ROCK
ADRIAN STARRANTINO
3
2013
LIME ROCK
ADRIAN STARRANTINO
2
2013
MID-OHIO
ADRIAN STARRANTINO
3
2013
MID-OHIO
ADRIAN STARRANTINO
1
2013
MID-OHIO
ADRIAN STARRANTINO
3
2013
SUMMIT POINT, WV
ADRIAN STARRANTINO
1
2013
SUMMIT POINT, WV
ADRIAN STARRANTINO
3


In the 2013 opening season, Adrian Starrantino won both races at the Virginia International Raceway in the Herta/Curb-Agajanian car #98 Mygale/Honda Car



PACIFIC F1600
YEAR
TRACK
DRIVER
FINISH
2013
THUNDERHILL RACEWAY, CA
COLTON HERTA
1
2013
BUTTONWILLOW, CA
COLTON HERTA
1
2013
BUTTONWILLOW, CA
COLTON HERTA
1
2013
BUTTONWILLOW, CA
COLTON HERTA
1
2013
BUTTONWILLOW, CA
COLTON HERTA
1
2013
BUTTONWILLOW, CA
COLTON HERTA
2
2013
LAS VEGAS, NV
COLTON HERTA
1