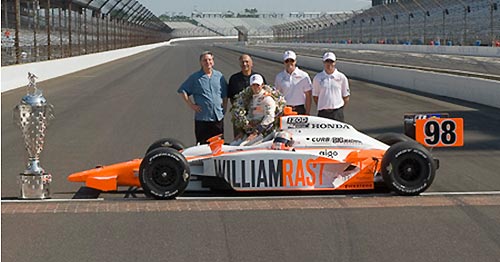 Dan Wheldon — Winner of the 2011 Centennial Indianapolis 500
Herta/Curb-Agajanian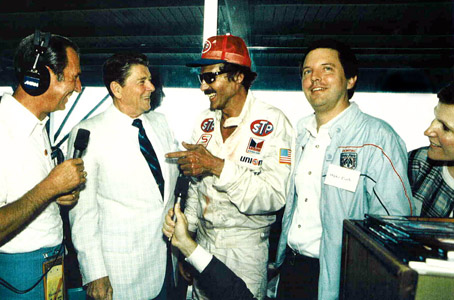 Ned Jarrett, President Ronald Reagan, Richard Petty and Mike Curb celebrate Petty's 200th victory at Daytona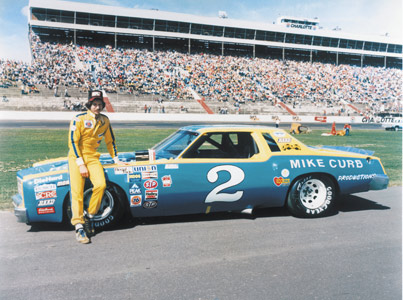 1980 Dale Earnhardt with Curb NASCAR championship car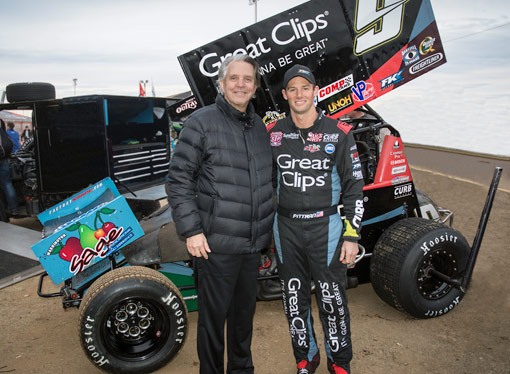 Mike Curb and Daryn Pittman at the 2013 World Finals in Charlotte celebrating the 2013 World of Outlaws championship.


Over 400 Auto Racing Victories (including over 300 Owner/Entrant victories)

Over 1,000 Top 5 Finishes

15 National Championships

Only car Owner/Entrant to win in all 10 NASCAR auto racing series in the United States
Sprint Cup (formerly Winston Cup) (Richard Petty)
Nationwide Series (formerly the Busch Series) (Johnny Sauter)
Camping World Truck Series (Johnny Sauter)
Grand-Am Rolex Daytona Prototype National SportsCar Series (now Tudor United SportsCar Series merged with American Le Mans) (Shank/Curb-Agajanian)
Tudor GT3
IMSA GT Series (formerly IMSA Camel GT)
Continental Series (formerly IMSA GTS)
Late Model All American Series
Modifieds
K&N East and West Series

Selected for West Coast Stock Car Hall of Fame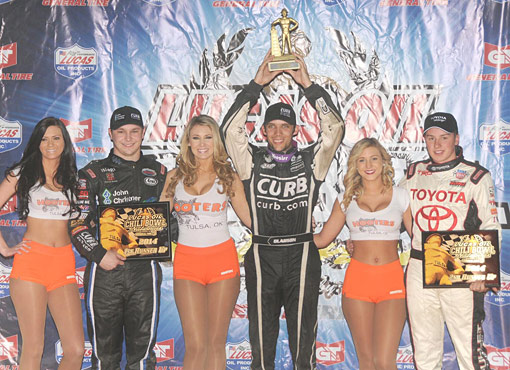 Bryan Clauson wins the 2014 Chili Bowl with Curb Drivers finishing 1, Kevin Swindell 2, Christopher Bell 3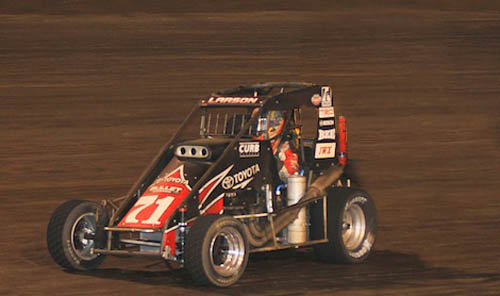 Kyle Larson wins the 72nd Historic Turkey Night Grand Prix in the Kunz Curb-Agajanian car. Curb-Agajanian becomes the first in the history of USAC to win the Triple Crown Owner/Entrant championships in all three national series in the same year
(Silver Crown, Sprint Car and Midget Car).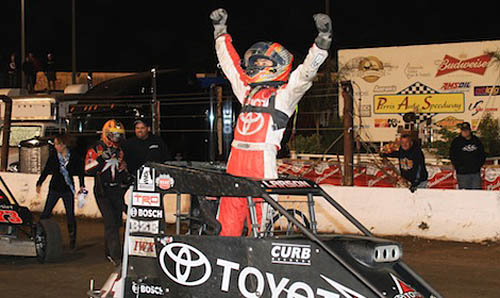 Kyle Larson won Thursday night's Turkey Night Grand Prix at California's Perris Auto Speedway.

79 Indy Car Top 10 Finishes
Dan Wheldon -

Winner of 2011 Centennial Indianapolis 500

with Bryan Herta/Curb-Agajanian

4 Top 10 Finishes in Indianapolis 500

Jack Hawksworth finishes 7th in 2014 Inaugural Indianapolis Grand Prix

10 podium wins - Long Beach Grand Prix, Nashville, Michigan 500, Milwaukee, Phoenix, Houston, and Indianapolis 500

10 Top 10 Finishes in 2012/2013 with Alex Tagliani

USAC Champ Car (Gold Crown) Victory - Bobby Olivero at Illinois State Fairgrounds

2002 - Billy Boat captures pole position and sets track record at Nashville Speedway (after finishing 2nd in 2001 inaugural event)

20 Cars Qualified for the Indianapolis 500
(including Kevin Cogan, Tom Sneva, Tony Bettenhousen, Billy Boat, P.J. Jones, Michael Chandler, Ed Pimm, John Andretti, Alex Barron, Jack Hawksworth, Alex Tagliani, Mario Moraes, and Dan Wheldon in the 100th Anniversary of the Indy 500 in 2011)

Top 10 Year-end Point Standings - IRL (Billy Boat), CART (Tom Sneva), and USAC (Ed Pimm)


Over 200 NASCAR Top 10 Finishes (150 as owner)
Owner/Entrant Victories in 6 different NASCAR series (Sprint Cup, Nationwide, Trucks, K&N East, K&N West and Grand-Am)

Over 500 Starts in NASCAR's 3 major series



20 Owner and Sponsor victories

, including Daytona, Dover, Nashville, Bristol, Atlanta, Charlotte, Kansas, Martinsville, Richmond, Las Vegas, Homestead and Texas


Richard Petty -

200th NASCAR victory

(in car owned by Mike Curb) with Ronald Reagan in attendance at Daytona


First NASCAR automobile inducted into the Smithsonian Institute in Washington, DC

Voted Sports' Greatest Moment of the Century (MasterCard's Greatest Sports Moments)




1 Winston Cup Championship


(1980 - Dale Earnhardt)
(sponsored by Mike Curb Productions)

Dale Jarrett's first Nationwide victory (North Carolina) Jarret's first NASCAR victory where he led every single lap in the only perfect race.

Co-sponsored Neil Bonnett's 1981 victory at the Darlington Southern 500 with the Wood brothers

Co-sponsored Darrell Waltrip's 1984 victory at the Daytona Nationwide (Busch) race

Johnny Sauter- Nationwide victory (Richmond) in a Curb-Agajanian owned car

Greg Biffle- NASCAR Nationwide - 7 Top 10 (Including 2 Runner-up) Finishes

Kevin Swindell- 2013 Top 10 Nationwide Series at Indianapolis and California, 3rd in Lincoln Electric / Airgas Track Championship Point Standings for the K&N Series East

Paulie Harraka- NASCAR K&N West - 3 Victories (Colorado & California)

Tyler Reddick- NASCAR K&N East - Winner at Rockingham

Dylan Kwasniewski wins 6 K&N East races in 2013 (Bristol, TN; Iowa; Langley, VA; Atlanta, GA); 2013 NASCAR K&N East Champion

Johnny Sauter- NASCAR Truck - 9 Victories (Great American Truck Race in Daytona, Las Vegas, Kansas, Martinsville, Homestead & The Texas Sweep—Winning both races in 2012; Talledega)

Kyle Larson wins the NASCAR National Late Model Inaugural Battle at the Beach at Daytona in 2013

Kyle Larson wins the Daytona Beach National Qualifier for the NASCAR Modified Division at Daytona in 2013

Bobby Santos wins 5 NASCAR Modified race at Stafford Motor Speedway, Thompson Motor Speedway, and New Hampshire

Ryan Newman finishes Top 5 in 2013 & 2014 NASCAR Modified race at New Hampshire & Bristol and wins the 2014 Modified All-Star Shootout at New Hampshire

Chad Boat- Top 5 Irwindale, Top 10 Phoenix (K&N West), Top 10 Bowman Gray (K&N East); Top 10 Daytona (ARCA)

Johnny Sauter- Runner-up in NASCAR Camping World Truck Championship

Top 10 in Year-end Point Standings - Sprint Cup (Richard Petty), Nationwide (Jason Keller), Trucks (Johnny Sauter), K&N East (Kevin Swindell, Dylan Kwasniewski, Cameron Hayley), K&N West (Paulie Harraka, Brandon McReynolds), Tudor United SportsCar Prototype and Grand-Am (Shank/Curb-Agajanian), GTU and GTO (Chris Cord, Dennis Aase), GTS (Michael Lewis), National Modified (Bobby Santos), and Southern Modified (Gary Putnam)


2 ARCA Victory
2012 - Chicago - Kevin Swindell
Top 5 Daytona ARCA 2012 - Mark Thompson
Top 5 ARCA Owner/Entrant Point Standings in 2012
2014 - Wisconsin International Raceway - Johnny Sauter

1 ASA Victory
2011 - LaCrosse Speedway, WI (Oktoberfest) - Sauter

219 World Of Outlaws Sprint Car Victories
The Big One at Eldora Speedway; Knoxville Raceway; Volusia Speedway; Terre Haute; Charlotte; California Gold Cup; Williams Grove, PA; Rolling Wheels Raceway, NY; Eldora, OH; New Egypt, NJ; Lawrenceburg, IN; Jackson Speedway, MN; Lima, OH; Kings Royal (Eldora); Lernerville, PA; Lebanon Valley, NY; Autodrome Drummond, Quebec; Ohsweken, Ontario; Knoxville Nationals (2); River Cities, ND; Junction Motor Speedway, NE; Nodak Speedway, ND; Edmonton, Alberta; Clay County, IA; Fremont, OH; Tucson, AZ; Las Vegas, NV; Thunderbowl Raceway, CA; Orange County, NY; New Egypt, NJ; Lake Odessa, MI; Grand Forks, ND; Lincoln Speedway, PA; Fulton, NY; Cornwall, Ontario; Knoxville World Challenge; Junction Speedway, NE; River Cities, ND; Alberta; Skagit, WA; Grays Harbor, WA; Willamette, OR; Southern Oregon; Kokomo, IN; Terre Haute, IN; Bloomington, IN; Berlin, MI; Rolling Hills Raceway Park, NY; Fremont, OH; Charlotte, NC (World Finals); Stockton, CA; Chico, CA; Antioch, CA; Placerville, CA; Calistoga, CA; Texas Outlaw Nationals; Huset's Speedway, CO; Granite City, MN; Huron, SD; I-96 Speedway, MI; Beaver Dam, WI; Lakeside Speedway, KS; Dodge City, KS; Cedar Lake, WI; Lebanon Valley, NY; I-55, MO

1,352 Top 10 Finishes
910 Top 5 Finishes

Runner Up 2010 World of Outlaws Car Owner Championship (Joey Saldana)

Donny Schatz - 2012 World of Outlaws Championship and Knoxville National Champion with Tony Stewart and Curb Records as primary associate sponsor

Daryn Pittman - 2013 World of Outlaws Championship

Donny Schatz - 2014 Knoxville Nationals Champion with Tony Stewart and Curb Records as primary associate sponsor

Daryn Pittman - 2014 Knoxville World Challenge Winner

Donny Schatz - 2015 Knoxville Nationals Champion with Tony Stewart and Curb Records as Owner/Entrant


1 NHRA Victory
1986 - Tim Grose - Pomona Winternationals
23 Indy Lights Victories
2011 - Conor Daly - Long Beach
2012 - Tristan Vautier - St. Petersburg 100
2012 - Esteban Guerrieri - Grand Prix of Long Beach
2012 - Esteban Guerrieri - Freedom 100 - Indianapolis Speedway
2012 - Tristan Vautier - Milwaukee 100
2012 - Esteban Guerrieri - Sukup 100
2012 - Tristan Vautier - Quebec
2012 - Tristan Vautier - Streets of Baltimore
2011 - Bryan Clauson - Top 5 - Freedom 100 - Indianapolis Speedway
2013 - Jack Hawksworth - St. Petersburg, FL
2013 - Sage Karam - Milwaukee
2013 - Sage Karam - Sukup 100, IA
2013 - Jack Hawksworth - Toronto
2013 - Gabby Chaves - Mid-Ohio
2013 - Jack Hawksworth - Baltimore
2013 - Sage Karam - Houston
2014 - Luiz Razia - Indianapolis Grand Prix
2014 - Jack Harvey - Grand Prix of Mid-Ohio (2)
2014 - Jack Harvey - Sonoma (2)
2015 - Jack Harvey - Grand Prix of Indianapolis
2015 - Jack Harvey - Freedom 100
2015 - RC Enerson - Mid-Ohio
2015 - Jack Harvey - Mid-Ohio



Tristan Vautier - 2012 Indy Lights Champion (Schmidt/Curb-Agajanian)
Sage Karam - 2013 Indy Lights Champion (Schmidt/Curb-Agajanian)
5 Formula 2000 Series Victories
2012 - Brandon Newey - Lime Rock
2012 - Brandon Newey - Watkins Glen
2012 - Brandon Newey - Summit Point
2012 - Brandon Newey - Virginia
2014 - Adrian Starrantino - Grand Prix of Indianapolis


4 Formula F1600 Series Victories
2013 - Adrian Starrantino - Virginia International Raceway (2)
2013 - Adrian Starrantino - Mid-Ohio
2013 - Adrian Starrantino - Summit Point

Runner-up in 2012 Championship Series

6 Pacific F1600 Series Victories
2013 - Colton Herta - Thunderhill Raceway, CA
2013 - Colton Herta - Buttonwillow, CA (4)
2013 - Colton Herta - Las Vegas

9 IMSA GTU Victories
Including Daytona, Pocono, Lime Rock, Laguna Seca, Charlotte, Miami, & Riverside
11 IMSA GTO Victories
Including Laguna Seca, Road America, Watkins Glen, Riverside, Summit Point, Portland & Del Mar
4 IMSA GT3 Victories
Including Monterey Grand Prix, Elkhart Lake, WI, and Circuit of the Americas - Michael Lewis
4 PIRELLI WORLD CHALLENGE GTA Victories
Circuit of the Americas (2) - Michael Lewis
St. Petersburg - Michael Lewis
Long Beach - Michael Lewis

1 Victory - ROLEX 24 Hours Overall Daytona
1 Podium Finish - Rolex 24 Hours (GTS) Daytona
Top 5 Finish - Rolex 24 Hours (GTO) Daytona
Top 7 Finish - Rolex 24 Hours Overall - Daytona Prototype - 2011
Winner - Rolex 24 Hours Overall - Daytona Prototype - 2012
Top 10 Year-end Grand-Am point standings (Shank/Curb-Agajanian)
2 Top 10 Finishes at Indianapolis Grand Prix
Pole Winner - Rolex 24 Hours of Daytona Tudor Prototype Class - 2015
Bryan Clauson - 2010, 2011, 2012 Overall USAC National Champion (Midget, Sprint, Silver Crown)
72 USAC National Midget Car Victories
2006 - Angell Park Track/Sun Prairie Wisconsin - Ryan Durst
2007 - Indianapolis Raceway Park- Kevin Swindell
2008 - Belleville Nationals - Brad Sweet
2008 - Knoxville Raceway - Brad Sweet
2008 - Eldora Speedway - Brad Sweet
2009 - Manzanita Speedway (Phoenix) - Brad Sweet
2009 - Salem - Brad Sweet
2009 - Eldora - Brad Sweet
2009 - Terre Haute - Brad Sweet
2010 - Las Vegas - Brad Sweet
2010 - Copper on Dirt - Brad Sweet
2010 - Lincoln Park - Brad Sweet
2011 - Dodge City Raceway Park - Bryan Clauson
2011 - Lincoln Park - Bryan Clauson
2011 - Lawrenceburg Speedway - Bryan Clauson
2012 - Indiana - Bryan Clauson
2012 - Angell Park Speedway, WI - Bryan Clauson
2012 - Dodge City Raceway Park, KS - Kyle Larson
2012 - Kokomo, IN - Kyle Larson
2012 - Eldora Speedway, OH - Kyle Larson
2012 - Tri City Speedway, IL (Gold Crown Nationals) - Kyle Larson
2012 - Western Classic (Canyon) - Kyle Larson
2012 - Turkey Night Grand Prix - Kyle Larson
2013 - Gas City, IN - Kyle Larson
2013 - Lincoln Park, IN - Christopher Bell
2013 - Bloomington, IN - Bryan Clauson
2013 - Kokomo, IN - Christopher Bell
2013 - Angell Park, WI - Rico Abreu
2013 - Belleville, IL - Bryan Clauson
2013 - Kansas - Christopher Bell
2013 - Belleville Nationals Prelim - Rico Abreu
2013 - Belleville Nationals - Christopher Bell
2013 - Angell Park Speedway, WI - Bryan Clauson
2013 - Eldora, OH (4-Crown Nationals) - Rico Abreu
2013 - Pontoon Beach, IL (Gold Crown) - Rico Abreu
2013 - Pontoon Beach, IL (Gold Crown) - Bryan Clauson
2013 - Pontoon Beach, IL (Gold Crown) - Christopher Bell
2014 - Kokomo, IN - Rico Abreu (2)
2014 - Belleville, IL - Christopher Bell
2014 - Bloomington, IN - Christopher Bell
2014 - Lawrenceburg, IN - Rico Abreu
2014 - Kokomo, IN - Bryan Clauson
2014 - Angell Park, WI - Christopher Bell (3)
2014 - Beloit, KS - Bryan Clauson
2014 - Belleville Nationals - Rico Abreu
2014 - Eldora, OH - Bryan Clauson
2014 - Peoria, AZ - Christopher Bell
2014 - Turkey Night Grand Prix - Christopher Bell
2015 - Plymouth - Kevin Thomas, Jr.
2015 - Gas City, IN - Tanner Thorson
2015 - Lincoln Park, IN - Bryan Clauson
2015 - Bloomington, IN - Christopher Bell
2015 - Lawrenceurg, IN - Rico Abreu
2015 - Pepsi Nationals, Angell Park - Rico Abreu
2015 - Beloit, KS - Kevin Thomas, Jr.
2015 - Belleville, KS - Rico Abreu
2015 - Belleville, KS - Bryan Clauson
2015 - Spring Run, PA - Rico Abreu
2015 - Lincoln Speedway, PA – Rico Abreu

326 Top 10 Finishes
231 Top 5 Finishes

Runner Up 2009 USAC National Midget Championship (Brad Sweet)
Winner of 2014 USAC National Midget Championship (Rico Abreu)

Winner of 2011 USAC National Midget Championship(Bryan Clauson)
Winner of 2012 USAC National Midget Owner/Entrant Championship - Kunz/Curb-Agajanian
Winner of 2013 USAC National Midget Championship (Christopher Bell)
Winner of 2014 National Pavement Championship (Kyle O'Gara)

33 USAC National Sprint Car Victories
2007 - Iowa - Tyler Walker
2008 - Eldora Speedway - Brad Sweet
2008 - Winchester Speedway - Brady Bacon
2009 - Terre Haute - Brad Sweet
2010 - Copperworld Classic - Levi Jones
2011 - Ocala - Bryan Clauson
2011 - Hall of Fame Classic - Bryan Clauson (2 victories)
2012 - Grandview Speedway, PA - Bryan Clauson
2012 - New Egypt Speedway, NJ - Bryan Clauson
2012 - Gas City, IN - Bryan Clauson
2012 - Eagle Raceway, NE - Bryan Clauson
2012 - US36 Raceway, MO - Levi Jones
2012 - Kokomo, IN - Bryan Clauson (2 Victories)
2012 - Perris Auto Speedway, CA - Bryan Clauson
2013 - Ocala - Bryan Clauson
2013 - Lincoln Park, IN - Bryan Clauson
2013 - Bloomington, IN - Bryan Clauson
2013 - Kokomo, IN - Bryan Clauson
2013 - Little Rock, AR - Bryan Clauson
2013 - Lawrenceburg, IN - Bryan Clauson
2013 - Peoria, AZ - Bryan Clauson
2014 - Ocala, FL - Bryan Clauson
2014 - New Egypt, NJ - Bryan Clauson
2014 - Terre Haute, IN - Bryan Clauson
2014 - Bloomington, IN - Bryan Clauson
2014 - Lawrenceburg, IN - Bryan Clauson
2014 - Peoria, AZ - Bryan Clauson
2015 - Ocala, FL - Dave Darland
2015 - Eagle, NE - Dave Darland
2015 - Amsoil Speedway, WI - Dave Darland
2015 - Kokomo (Sprint Car Smackdown) - Dave Darland

235 Top 10 Finishes
147 Top 5 Finishes

2012 Bryan Clauson - 2012 USAC Sprint Car Champion (CTR/BCI/Curb-Agajanian)
2013 Bryan Clauson - 2013 USAC Sprint Car Champion (Tony Stewart/Curb-Agajanian)
2014 Bryan Clauson - Indiana Sprint Week Champion

19 USAC Silver Crown Victories
1999 - Memphis - Brad Noffsinger
2004 - Nazareth - Tyler Walker
2004 - DuQuoin - Tyler Walker
2004 - Tulsa - Tyler Walker
2010 - Copperworld Classic - Levi Jones
2010 - DuQoin - Levi Jones
2010 - Eldora - Bryan Clauson
2012 - Hall of Fame Classic - Bobby Santos
2012 - Iowa - Bobby East
2012 - Indianapolis Raceway Park 100 - Bobby Santos
2012 - Terre Haute, IN - Bobby East
2013 - Hoosier Hundred - Levi Jones
2013 - Gateway 100, IL - Bobby Santos
2013 - Pikes Peak - Bobby East
2013 - Eldora, OH (4-Crown Nationals) - Chris Windom

137 Top 10 Finishes
89 Top 5 Finishes

2010 National USAC Silver Crown Champion (Levi Jones)
2011 National USAC Silver Crown Champion (Levi Jones)
2012 National USAC Silver Crown Champion (Bobby East)
2012 USAC Silver Crown Owner/Entrant Champion (RW/Curb-Agajanian)
2013 USAC Silver Crown Champion (Bobby East)

10 ASCS National Sprint Car Victories
2010 - I-30 Speedway, Little Rock, AR - Brad Sweet
2010 - Las Vegas Super Nationals - Joey Saldana
2012 - Salina Speedway, KS - Kevin Swindell
2012 - Eagle Raceway, NE - Tony Stewart
2012 - Plymouth Speedway, IN - Tony Stewart
2012 - 45th Western World Championship - Bryan Clauson
2014 - Smackdown (El Paso, TX)(305 Region) - Jason Johnson
2014 - Somerton, AZ - Jason Johnson

46 Top 10 Finishes
31 Top 5 Finishes
16 All Star Circuit of Champions Victories
2006 - Terre Haute Action Track - Joey Saldana
2006 - Eldora Speedway - Joey Saldana
2007 - Volusia County Speedway - Joey Saldana
2008 - Eldora Speedway - Joey Saldana
2009 - Lowes Motor Speedway - Joey Saldana
2009 - I-55 Speedway - Joey Saldana
2010 - Volusia Speedway Park - Joey Saldana
2010 - Volunteer Speedway - Joey Saldana
2012 - Screven Speedway, GA - Tony Stewart
2012 - Cannonball Motor Speedway, OH - Kyle Larson
2012 - Wayne Country Speedway, OH - Kyle Laron
2013 - Army Nationals - Ocala - Donny Schatz (2)
2015 - Volusia, FL - Daryn Pittman
2015 - I-96 Speedway, MI - Steve Kinser

24 CRA (USAC) Sprint Car Victories
Ascot, Devil's Bull, Santa Maria, Manzanita (Brad Noffsinger and John Andretti)

2 CRA Sprint car championships in Curb-sponsored car
Winner of 2012 Oval Nationals - Bryan Clauson
18 BMARA/Badger Victories
2008 - Knoxville, IA - Brad Sweet (2)
2008 - Fireman's Nationals - Brady Bacon
2011 - Angell Park, WI - Bryan Clauson
2012 - Macon, IL - Bryan Clauson
2012 - 76th Annual Badger Midget Race - Rico Abreu
2013 - Angell Park Speedway, WI - Rico Abreu
2013 - Belleville, IL - Bryan Clauson
2013 - Lincoln, IL - Rico Abreu
2013 - Macon, IL - Christopher Bell
2013 - Angell Park, WI - Bryan Clauson
2014 - Angell Park, WI - Christopher Bell, Tanner Thorson
2014 - Angell Park, WI - Christopher Bell (3)
2015 - Angell Park, WI - Kevin Thomas, Jr.
2015 - Pepsi Nationals, Angell Park - Rico Abreu

2014 Badger Champion - Christopher Bell
48 POWRi Victories
2011/2012 - Macon, IL - Bryan Clauson (2)
2011/2012 - Lincoln, IL - Bryan Clauson (2)
2011 - Jacksonville, IL - Bryan Clauson
2011 - DuQuoin (Battle at the Center) - Bryan Clauson
2012 - Sothern Illinois - Bryan Clauson
2012 - Belleville, IL - Rico Abreu
2012 - Cornhusker Midget Nationals, NE - Rico Abreu
2012 - Angell Park, WI - Rico Abreu
2012 - 36 Raceway, MO - Kyle Larson
2013 - Belleville, IL - Christopher Bell
2013 - Jacksonville, IL - Kyle Larson
2013 - Angell Park Speedway, WI - Rico Abreu
2013 - Belleville, IL - Bryan Clauson (2)
2013 - Angell Park, WI - Bryan Clauson
2013 - Jacksonville, IL - Rico Abreu
2013 - Canton, IL - Christopher Bell
2013 - Pontoon Beach, IL - Rico Abreu
2013 - Pontoon Beach, IL - Bryan Clauson
2013 - Pontoon Beach, IL - Christopher Bell
2014 - Tulsa, OK - Christopher Bell (2)
2014 - Kokomo, IN - Rico Abreu (2)
2014 - Jacksonville, IL - Christopher Bell
2014 - Belleville, IL - Christopher Bell
2014 - Angell Park, WI - Christopher Bell
2014 - World Championship @ Brownstown, IN - Christopher Bell
2014 - Lincoln, IL - Tanner Thorson
2014 - Angell Park, WI - Christopher Bell (3)
2014 - Belleville, IL - Bryan Clauson
2014 - Lincoln, IL - Christopher Bell
2014 - Jacksonville, IL - Bryan Clauson
2015 - Port City - Christopher Bell
2015 - Angell Park, WI - Kevin Thomas, Jr.
2015 - Quincy Raceways - Tanner Thorson
2015 - Jacksonville - Christopher Bell
2015 - Macon - Christopher Bell
2015 - Pepsi Nationals, Angell Park - Rico Abreu
2015 - I-55, MO - Tanner Thorson

Top 3 2012 Championship
Winner - 2014 World POWRi Championship - Christopher Bell
USAC Western Midget/Western Classic Midget
11 Victories including 2012 Western Classic & 2013 Copper on Dirt; Calistoga, CA; 2013 Western World Championships

28 Top 10 Finishes
19 Podium Wins
USAC West Coast Sprint/ Southwest Sprint Victories
2 Victories including Western World Championships (Bryan Clauson)

2 Top 5 Finishes
2 Top 10 Finishes
3 USAC Pavement Midget Victories
2013 - New Smyrna, FL - (Kyle Larson)
2013 - New Smyrna, FL - (Bobby Santos)
2013 - Battle on the Border, IN - (Christopher Bell)

5 Chili Bowl Victories
2011 - Kevin Swindell
2012 - Kevin Swindell
2013 - Kevin Swindell
2014 - Bryan Clauson
2015 - Rico Abreu

1 Hoosier Hundred Victory
2013 - Levi Jones

2 Eastern Storm Victories
2012 - Bryan Clauson
2013 - Bryan Clauson

2 Turkey Night Grand Prix Victories
2012 - Kyle Larson
2014 - Christopher Bell

3 Belleville Nationals Victories
2008 - Brad Sweet
2013 - Christopher Bell
2014 - Rico Abreu

3 Indiana Speedweek Championships (Midget Cars)
2011 - Bryan Clauson
2013 - Christopher Bell
2014 - Rico Abreu

3 Indiana Speedweek Championships (Sprint Cars)
2012 - Levi Jones
2013 - Christopher Bell
2014 - Bryan Clauson

ALL STAR CIRCUIT OF CHAMPIONS
(14 Owner/Entrant Victories - 3 Sponsor Victories)
ARCA
2012 Top 5 Owner standings (1 victory - Chicago, K. Swindell)
ASA
(1 victory)
ASCS
2014 Championship (Jason Johnson) (1 victory)
ASCS Southwest
2014 (Jason Johnson - 1 victory)
BADGER
2014 Championship (Christopher Bell) (16 victories)
2012, 2013, 2014 (3) Top 10 standings
CHILI BOWL *
2011, 2012, 2013 Championships (Kevin Swindell)
2014 Championship (Bryan Clauson)
2015 Championship (Rico Abreu)
CRA
1986, 1987 Championships (Brad Noffsinger) (Sponsor) (25 victories)
1979, 1986, 1987 Top 10 standings
FORMULA F1600
2013 Top 10 standings (Adrian Starrantino) (4 victories)
FORMULA F1600 (Pacific)
2013 Championship (Colton Herta) (10 victories)
GRAND-AM
Daytona Prototype
2012 Top 10 standings
(1 victory - Overall Winner 2012 Rolex 24 Hours of Daytona)
IMSA
Tudor Daytona Prototype *
2014 Top 10 standings
GT3
2014 Top 10 standings (4 victories)
GTS
1987 Championship (11 victories)
1986, 1987 Top 10 standings
GTO
1986 Top 5 at 24 Hours of Daytona
1986, 1987 Top 10 standings
GTU
1984, 1985 Top 10 standings (9 victories)
1985 - Winner at Daytona
NASCAR
Sprint Cup *
1980 Championship (Dale Earnhardt)(Sponsor)(9 victories)
1980 (Sponsor), 1984 (Owner/Entrant) Top 10 standings
(2 victories - Daytona winner 1984) (Richard Petty's 200th victory)
Xfinity
1984, 1986 (2 victories) (Sponsor)
1986 (Dale Jarrett) (Sponsor) Top 10 standings
2003 (1 victory - Johnny Sauter) (Owner/Entrant),
2009 Top 10 standings (Jason Keller) (Owner)
Trucks *
2009, 2010, 2011, 2012, 2013, 2014 Top 10 standings
(10 victories)
K&N East *
2012 (1 victory)
2013 Championship (6 victories)
K&N West *
2009, 2010 (3 victories)
2009, 2010 Top 5 standings
2015 (1 East/West victory - Iowa, Brandon McReynolds)
Modified *
2013, 2014 (5 victories & 1 non-points victory - Ryan Newman - All Star Shootout) 2014 Top 10 standings
Southern Modified *
2014 Top 10 standings
(1 non-points victory) (Kyle Larson - Daytona Qualifier)
2015 (1 points victory) (Ryan Preece - South Boston)
Late Model All American
2013 (1 victory) (Kyle Larson - Battle at the Beach)
NHRA
1986 Top 10 standings
(1 victory - Pomona Winternationals)
NMDOTY
2012, 2013, 2014 Championships (Owner)
2012 (2), 2013(2), 2014 (4) Top 10 standings
NON-WINGED SPRINT
2013, 2014 Championships (Owner)
2011, 2012, 2013, 2014 Top 10 standings
POWRi
2014 (3) Top 10 standings (43 victories)
SCCA
Pirelli World Challenge GT * (GTA)
2015 2-time Winner of the Texas Grand Prix at The Circuit Of The Americas in Austin - Michael Lewis
Indy Pro
1984 Top 10 standings (1 victory)
USAC
Silver Crown *
2010, 2011, 2012, 2013 Championships (16 victories)
2000, 2003, 2009, 2010 (2), 2011 (2), 2012 (3), 2013 (3), 2014 (2) Top 10 standings
Sprint *
2012, 2013 Championships (30 victories)
2007 (2), 2008 (2), 2011, 2012 (2), 2013, 2014 Top 10 standings
Midget (National) *
2012 (Bryan Clauson/Kyle Larson),
2014 (Rico Abreu) Championship
(61 victories combined - National, Dirt & Pavement) 2007, 2008 (2), 2009, 2011, 2012 (2), 2013 (4), 2014 (5) Top 10 standings
National Midget (Dirt)
2013 Championship (Christopher Bell)
2013 (4 victories)
Midget (Pavement)
2014 Championship (Kyle O'Gara)
National Midget (Pavement)
2013 (3 victories) Top 10 standings
Southern Midget Racing Series
1 victory
Western Midget
17 victories
2011, 2013(2), 2014 (2) Top 10 standings
Western Midget (Dirt)
2 victories
2014 (3) Top 10 standings
CRA USAC Sprint
6 victories
Southwest Sprint
2 victories
West Coast Sprint
2 victories
USAC National Championship
2012 (Bryan Clauson)
Triple Crown Championships
2012, 2013 Curb-Agajanian - 1st car owner/entrant to win 3 National Championships in Silver Crown, Sprint and Midget car the same years
USAC Champ Car/Gold Crown
1985 Top 10 standings (Ed Pimm - 9th) (Owner)
1982 (1 victory - Bobby Olivero) (Sponsor)
Cart/Champ Car World Series
1985, 1986 Top 10 standings (Tom Sneva - 7th & 10th)
INDYCAR *
2000, 2001 Top 10 standings (Billy Boat - 10th & 4th)
(1 victory - 2011 Indy 500 - Dan Wheldon)
INDYCAR (Lights) *
2012, 2013 Championships (20 victories)
2012 (3), 2013 (3), 2014 (4) Top 10 standings
Winner of the 2012 & 2015 Indianapolis Freedom 100 and the 2014 & 2015 Indianapolis Grand Prix
USF 2000
2014 Top 10 standings
(1 victory - Adrian Starrantino - 2014 Indianapolis Grand Prix)
WORLD OF OUTLAWS *
2013 Owner Championship (Pittman)
2012, 2014 Sponsor Championships (Schatz)
2013, 2014, 2015 Top 10 Owner standings (Pittman)
2012, 2013, 2014 Top 10 Owner standings (Darrah)
2005, 2007, 2008, 2009, 2011, 2012 Top 10
Owner standings (Saldana)
2012 (2), 2013 (2), 2014 (2) Top 10 Sponsor standings
2015 Top 10 Owner standings (Schatz, Sweet, Pittman)

TOTAL CHAMPIONSHIPS
38 (5 Sponsor)
TOP 10 STANDINGS
135 (7 Sponsor)
* Owner/entrant during 2015 season
Top 10 finishes at almost all of the major motorsports speedways and tracks
| | | |
| --- | --- | --- |
| Indianapolis 500 | Long Beach Grand Prix | Toronto |
| Daytona 500 | Pomona Winternationals | Elkhart Lake |
| Michigan 500 | Richmond | Gateway |
| Pocono 500 | North Wilksboro | Kentucky |
| Talladega 500 | Hickory | Kansas |
| Charlotte 500 | Indianapolis Raceway Park | Nazareth |
| Dover 500 | Phoenix | California |
| Atlanta 500 | Milwaukee | Las Vegas |
| Rockingham 500 | Mid-Ohio | Myrtle Beach |
| Riverside 500 | Montreal | Watkins Glen |
| Texas 500 | Meadowlands | Pikes Peak |
| Bristol 500 | Portland | Memphis |
| Martinsville 500 | Miami | Nashville |
| Darlington 500 | Cleveland | Eldora Speedway |
| | Homestead | Knoxville Raceway |